| | | | | |
| --- | --- | --- | --- | --- |
| [ | mood | | | bitchy | ] |
Awards Update

Apologies for the lack of updates recently; I'm recovering from a bout with the flu. Also, I found the results of the AACTA Awards and Sydney Theatre Awards a bit wanting, to put it mildly. The AACTAs chose to reward style over substance, larding Baz Luhrmann's glitzy but empty Great Gatsby remake with honors while snubbing genuinely Australian actors and films in most of the high-profile categories. Rose Byrne was given The Turning's sole award (for Best Actress) and Mystery Road was snubbed altogether. The Sydney Theatre Awards took an opposite tack, seeming to deliberately slight any actor with a degree of fame (Cate Blanchett, Hugo and Richard Roxburgh were also overlooked) in favor of more obscure performances, though one could argue there might have been vote-splitting in some categories. STC's Waiting For Godot was, at least, rewarded Best Mainstage Production and Luke Mullins Best Supporting Actor.

I had assumed in advance in the AACTAs that Hugo was unlikely to win due to his role in The Turning being only about ten minutes long, and because he'd won Best Supporting Actor for Oranges and Sunshine only two years ago. But a last-minute flurry of opinion pieces and predictions in the Australian press damnably got my hopes up, particularly this Herald-Sun article (see below the cut). Though Hugo attended last year's event to present an award, he seems to have been absent this time around, or at least to have avoided the red carpet and photographers. Since he also gave the event a pass the previous year (when he won for O & S) it would appear that he prefers celebrating other actors to competing against them; the last time Hugo collected an award in person was in 2005 for Little Fish. Props to Leigh Paatsch, Eva Orner (via Inside Film) and other writers, bloggers and journalists who thought The Turning and Mystery Road deserved better.

( AACTAs Preview ArticleCollapse )
Fortunately, awards have never been a primary motivator for Hugo; to date I've never seen him engage in the sort of campaigning and self-publicity that Oscar contenders routinely undertake. But there will be more possible accolades for both films (and other films underappreciated at The AACTAs, like The Rocket and Satellite Boy) when The Film Critics Circle of Australia hand out their honors on March 11. Hugo was nominated for Best Supporting Actor honors for both Mystery Road AND The Turning, meaning he's in the enviable position of splitting votes with himself. Mystery Road is also up for Best Feature Film, best Director (Ivan Sen), Best Lead Actor (Aaron Pedersen), Best Actress (Tasma Walton), Best Script, Music, Cinematography and editing (all Sen), and Production Design. The Turning picked up another nod for Rose Byrne's performance, though this time it was classified a supporting performance.

The Turning at Berlinale

I was uncertain as to whether or not Hugo Weaving would attend this year's Berlinale; he has two films screening there (Healing has press and distribution screenings, while The Turning has its international premiere, including a press conference tomorrow morning) and he tends to go all out in supporting Australian films at such events, but his name didn't appear on any early guests lists. But yesterday we had the first hints in the direction of confirmation he would indeed be on hand. First a fan who works at the Abu Dhabi airport posted a new photo: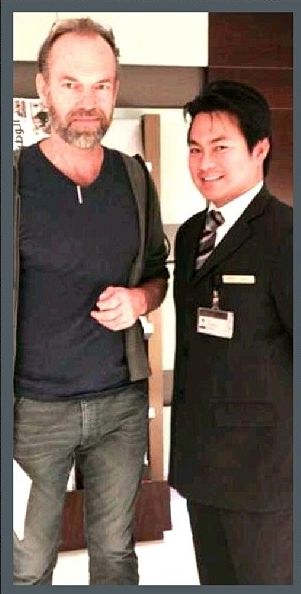 Photo: Josh Cher via Instagram/Twitter

Of course, there are any number of reasons Hugo might be in Abu Dhabi, but I wondered if he might not be en route to another event. My suspicions were confirmed a few hours later when Hugo was photographed at the Berlin airport: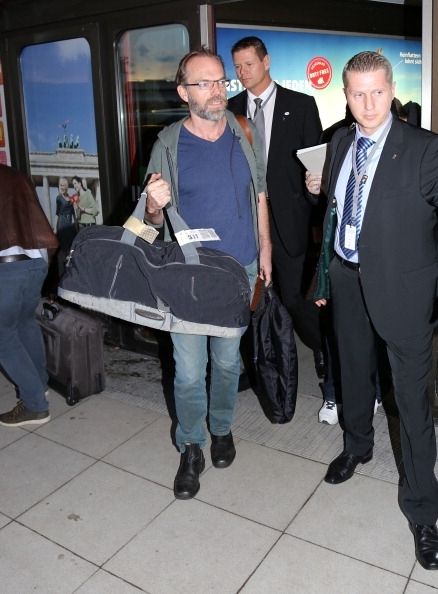 Photo: Chad Buchanan/Getty Images via WireImage

Note: I have mixed feelings about images like these, as they might seem intrusive to some. (Hugo is not actively participating in a public event, though he's en route to one). So I'll apologize upfront if anyone thinks these cross the line into paparazzi invasion of privacy. Since Hugo seems aware of and not upset by the photographer, and these aren't unflattering, I'm going ahead and posting them, but I do have misgivings. Ideally we'll have some more relaxed, subject-approved pics once the press conference gets underway tomorrow.

( More Berlin Airport PhotosCollapse )

The Turning's official Berlinale press conference will begin soon, at 15.45 CET (9.45 AM EST, 2.45/14.45 GMT). David Wenham, who directed Hugo in "Commission" is also on hand in Berlin. To watch a live-stream of the press conference, keep an eye on Berlinale's Live Video page; the completed video will then appear on their YouTube feed, and I'll embed it here. You can also see new photos of Berlinale events on the festival's Twitter, Facebook and Instagram feeds.

Healing

Though Craig Monahan's film isn't having a formal gala screening at Berlinale, it is being screened for critics and potential buyers; thus we already have our first review for the film-- a positive one-- from Screen Daily. Here are excerpts: "Three wounded creatures need healing in this attractive Australian feature — a broken-winged eagle, the reluctant prisoner given responsible for its rehabilitation, and the officer in overall charge of the raptor programme. Though the three outcomes are hardly in doubt, the heartfelt tale is told with plenty of soaring nature shots in and above Victoria's photogenic Macedon Ranges. Aussie academy award winning cinematographer Andrew Lesnie (The Lord of the Rings, The Hobbit) adds much visual panache to the otherwise plain narrative....This is director/co-producer/co-writer Monahan's third feature with actor Hugo Weaving... and there's a brooding masculinity about the low-security inland prison farm community in which Healing based. Violence is constantly threatened.

... Iranian/Australian Viktor (Don Hany) is in the final 18 months of a 16-year sentence for a drunken crime for which he has no excuses, only self-loathing. Deliberately aloof, he antagonises his fellow inmates ("He may have been a hard man once," says one, "he's just an old man now") and he seems a hopeless case until officer Matt (Weaving), himself unable to recover from a family blow, initiates a programme to assist the nearby wild bird sanctuary. This introduces Viktor to various falcons, owls and Yasmine, a magnificent wounded wedged-tailed eagle....Performances are strong. Tough and wounded, both Weaving and Hany hold our attention throughout."

The Mule

Screen Australia put together a lovely promotional PDF for the Australian selections at Berlinale; in addition to highlighting Tim Winton's The Turning and Healing, it included a nice surprise amid promos for other Australian films in various stages of production, our first look at Hugo Weaving in The Mule: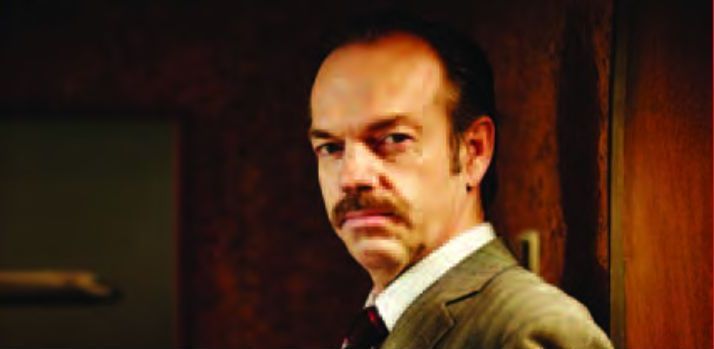 This followed hot on the heels of the announcement that The Mule will have its world premiere next month at the SXSW Festival in Austin, TX as part of their Narrative Spotlight section. (Specific dates and times TBA). So I was technically mistaken in calling Healing Hugo's next film to see release in the last entry, though it will be the next one in theatrical release in Australia. SXSW's page for the film features a very different film still than the one I've elected to share. Though I can't be certain which actor the still depicts, I will say I'm quite certain it isn't Hugo. ;) (My best guess is that it's Leigh Whannell, who, according to most sources, plays the hapless title character.)

Here's the official synopsis: "In 1983, a naive man detained by Australian Federal Police has lethal narcotics hidden in his stomach. Alone and afraid, 'the mule' makes a desperate choice to withhold the evidence...literally....Defying his bodily functions, 'the mule' inadvertently drags the cops, the criminals and his family deep into the bowels of hell, confirming - 'it's what's inside that counts.' "

Oddly, we still have no information on Hugo's character; since John Noble is known to be playing a crime lord/club owner, one might assume Hugo is playing a cop, but he might be playing a different crime lord, the smuggler's father, or a character yet unknown. We do know it's a period film, and that's he's sharply dressed, but that's about it. Whannell is quoted in Screen Australia's announcement of the film's festival berth: ""Austin is a film fan's town and we are so excited to be holding the world premiere of The Mule at SXSW, a festival that embraces independent and original films... We cannot wait to see the crowd in Austin devour it." More info, and the full slate of SXSW films, can be read at IndieWire and We Got This Covered, It's unknown how the film will be distributed beyond SXSW; let's just hope it fares better than The Key Man, which debuted at SXSW 2011 and mostly vanished without a trace (apart from a few random cable screenings and online streaming in the Middle East and Eastern Europe)...

In Other Hugo News

Mystery Road had a successful Australian TV screening on 26 January (and subsequent online streaming for Australian audiences). The DVD is officially released 12 February (Blu-Ray as well). Tim Winton's The Turning will follow a similar distribution route, airing 23 February on ABC1; the DVD/Blu-Ray will follow on 24 February. Though The Turning has secured distribution to some countries, according to Inside Film, no specific release dates outside of Australia have yet been announced, nor has it acquired an American distributor. Mystery Road has American and UK distributors, but no release schedule as of yet. Variety posted the first Berlin review; unfortunately they didn't know what to make of the film... but in an interesting reversal of many Australian critics, they praised the "Reunion" segment (starring Cate Blanchett and Richard Roxburgh) while faulting the title sequence (featuring Rose Byrne.)

Individual tickets for STC's Macbeth, which will star Hugo alongside Kate Box, John Gaden, and Melita Jurisic in an innovative reversed staging, go on sale 10 February, for those lucky enough to live in the Sydney area (or who have a lavish travel budget). Details at STC's website.

In Memoriam

As many of you know, the acting world was dealt a heartbreaking blow with the premature passing of Philip Seymour Hoffman earlier this week. Longterm fans will remember that Hoffman directed Hugo Weaving in the 2007 premiere production of Andrew Upton's Riflemind for the Sydney Theatre Company. (He returned to direct True West for the STC in 2010.) At the time, Weaving characterized working with Hoffman: "Obviously, I've been an admirer of his acting work for many years, and it was a real delight to meet him. We just had a lovely meal [in New York, during the run of Hedda Gabler], and that was when it was decided we were going to do [Riflemind]....It's a very wonderful, challenging, difficult play,and Phil's an incredibly warm human being who is helping us to dig our way through the piece. He's a very gentle presence in the rehearsal room, always just asking himself and us questions. There's no pressure on us at all. We put enough pressure on ourselves as it is - all actors do - and he understands that." (as quoted in the Sydney Morning Herald.)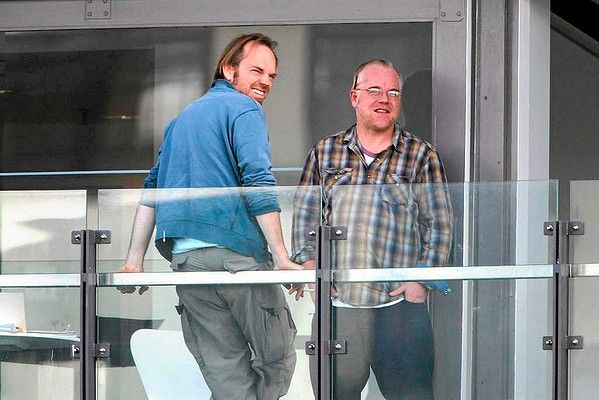 Hugo Weaving and Philip Seymour Hoffman take a break from Riflemind rehearsals, 2007 (Photo: Simon Alekna/Brisbane Times)

I'll be back with Berlinale coverage as soon as possible.