Through there hasn't been any spectacular breaking news since the last entry, there are enough new tidbits on several of Hugo's films (and, as far as the Melbourne International Film Fest is concerned, specifics) to warrant a full update.

The Turning

First up, Hugo's next film to premiere will be Tim Winton's The Turning, which will screen at the Melbourne International Film Festival next month. The film's world premiere will serve as MIFF's Centerpiece Gala on 3 August at 7pm, with additional showings on 10 August at 10.30am and 11 August at 6.30pm. Tickets are selling quickly, so if you plan on attending, you'll nee to act fast. You can buy tickets or read additional venue details here. There will also be a Q&A session about the film held on 4 August at 1.30pm with author Tim Winton, producer Robert Connolly and several of the 17 directors who worked on the project in attendance. Details on that, and ticket sales, are here. No word yet on whether Hugo Weaving will attend the premiere of this film or be on hand at MIFF in any capacity; Mystery Road will also be screened there on 26 July (more details on that below.) As I've mentioned previously, Hugo Weaving is featured in a segment entitled "Commission", directed by his old friend and frequent past costar David Wenham. Hugo plays "Honest Bob" Lang in a story of about a father and son reuniting after years apart.

You can read more about The Turning at Junkee.com, 10 Magazine, ReFest Magazine, Madman Entertainment, Onya Magazine, Inside Film (an article about some of the film's first-time directors, including Wenham and Mia Wasikowska), Yen Magazine, Geek of Oz, Pedestrian TV and Mumbrella. You can read more about the Melbourne International Film Festival at Inside Film, Event Finder and, of course, at the MIFF website.

Local Today featured MIFF artistic director Michelle Carey's thoughts on the film, which she said varies in tone over the course of 17 linked stories, some of which are impressionistic and others more literal: "

As a film experience it's really unique, it's something probably a bit more akin to theatre or dance...

It is something completely unique certainly in Australian filmmaking." No additional details and only a pair of official photos from "Commission" have been released, including this film still, and another brief glimpse seen in the film's trailer: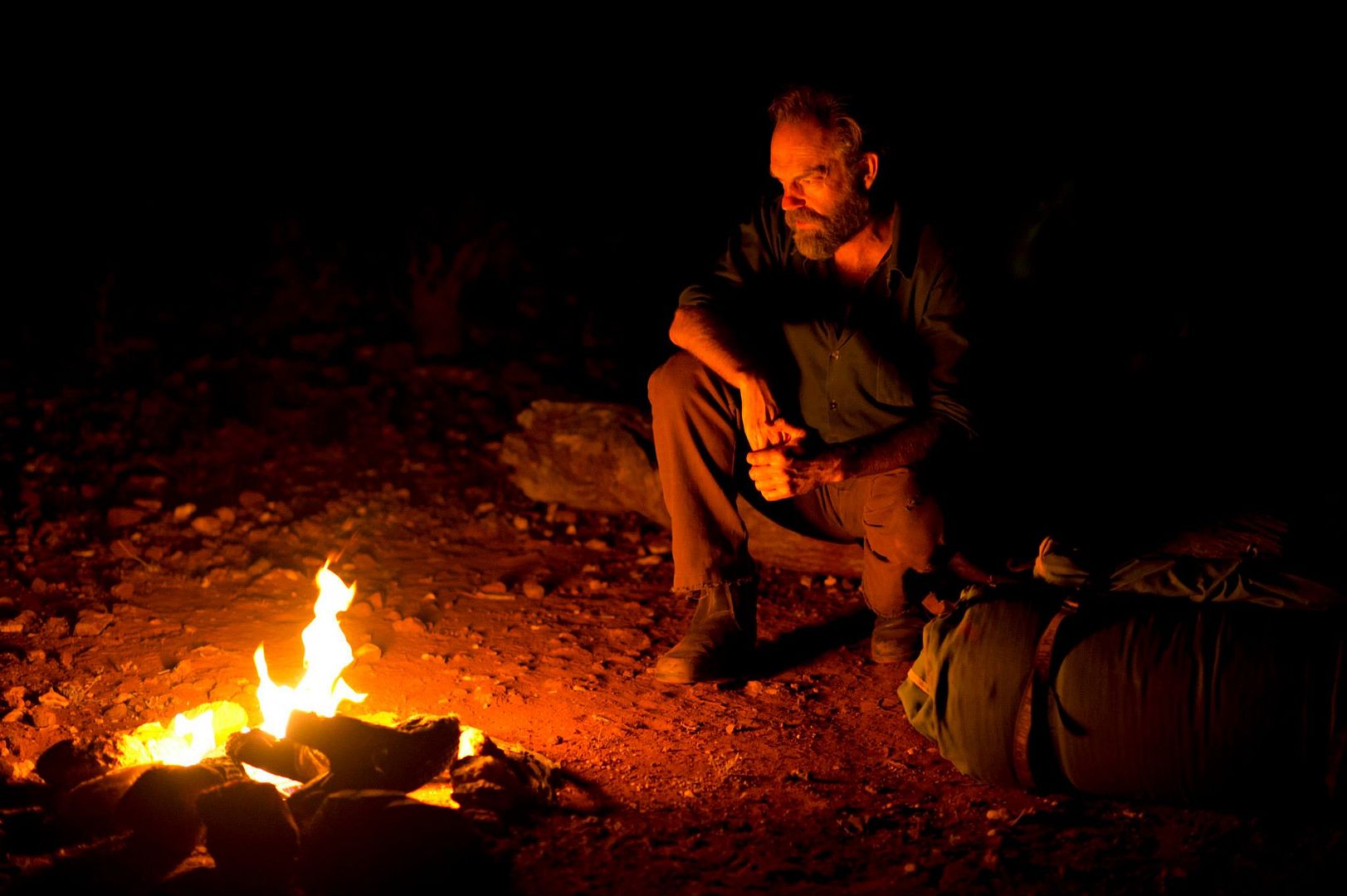 From The Turning's Facebook Page, which also features a great shot of Cate Blanchett and Richard Roxburgh in Reunion.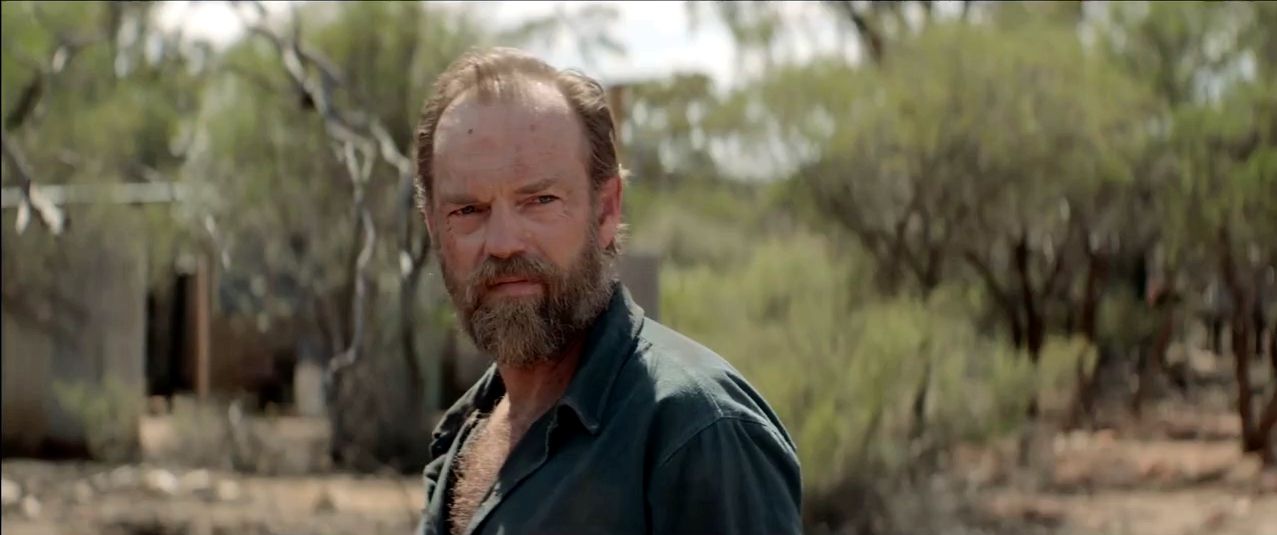 Hugo's character Bob Lang, as seen in the film's trailer


The best sources for updates on The Turning remain the film's Facebook and Twitter accounts. There is an official website too, but so far all it features is the film's teaser trailer. The Turning will have its Australian cinema release 26 September; no word yet on international distribution, but with this cast I figure it'll have to at least get VOD distribution, and ideally an arthouse release worldwide.

Mystery Road

As I mentioned, Ivan Sen's widely lauded film Mystery Road, which had its world premiere at last month's Sydney Film Festival, will also have a screening at MIFF, on 26 July at 6.15pm as part of MIFF's Australian Showcase. There will also be a talk featuring Ivan Sen and star Aaron Pedersen on 27 July at 4pm. Unfortunately Mystery Road's Australian release has been pushed back from August to October; hopefully that won't impact the projected early 2014 US/international release previously announced. I don't know if Australia follows America's tendency to use August as a dumping ground for mindless summer movies that don't quite have the box office potential of the May - July "tentpole" releases, but if they do, the change to the more serious, artistically-intentioned fall release season makes sense.

Mystery Road received another boost in the form of a very positive review in Variety, which is considered influential in gauging how well a film will do in international release; unfortunately, the critic continued Variety's tendency to spill far too many plot spoilers, so those not wanting character details or the aftermath of the film's climactic gun battle revealed might want to skip the middle paragraphs; here's a spoiler-free excerpt:

Eddie Cockrell, Variety: "Writer-director-lenser-editor-composer Ivan Sen's "Mystery Road" is an impressively crafted, immensely satisfying contempo thriller that astutely grafts Western and film-noir elements onto the hot-button issue of tensions between indigenous and European Australians... Holding the narrative tightly together is Sen's superb script — his fourth produced dramatic feature and first genre exercise. Rich in imaginative metaphor and brooding symbolism, the film incorporates such disparate elements as the growing threat of wild dogs in the region, the God's-eye shots of Swan navigating the town's roads and even the dusty red dirt that coats everything in the outback, creating an atmosphere of brooding menace and moral rot... [Aaron] Pedersen's laconic delivery fronts a distinguished lineup of Aussie character talent."

Sydney Film Festival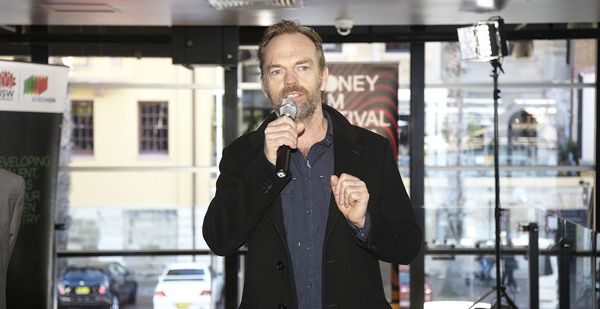 Hugo Weaving at the SFF awards presentation ceremony, 16 June Photo: ABC Arts

The controversial awarding of the SFF's main prize to Only God Forgives continues to be debated online. Film critic and journalist Julie Rigg, who has interviewed Hugo many times over the course of his career, chatted with him and fellow SFF juror Paolo Bertolin after the awards presentation and shared both audio clips on ABC Arts. She heard two very different responses to the film, which essentially confirm my suspicion that the jury was divided and that Hugo and another juror (probably Anand Gandhi) were talked into changing their votes by the three others. (Bertolin and the two female jurors, Kath Shelper and Pia Marais, have been vocal in their praise of the winning film while Weaving and Gandhi have been vocal only in not wanting to discuss it at all, ;) though Hugo expressed warm feelings for all his fellow jurors and stressed that the decision caused no rancor among the group.) I'd love to hear which film Hugo actually preferred, as he does state the final choice, which took 6 and a half hours, was between two films. Even the awards statement, which Hugo read during the presentation, was "was carefully phrased and debated word by word" by the group, according to Rigg, and thus wasn't Hugo's personal statement, but one on behalf of and composed by the full group.



Though this was Hugo's first time as a feature film juror at a prominent festival, he also served on the jury at the Byron Kennedy Awards judging short films... where fellow juror Rowan Woods (The Boys, Little Fish) said he also was talked into awarding a film that wasn't his first choice. So he's definitely a facilitator rather than a dictator or politician at these events. I would think people would ask Hugo (or any actor/director/etc) to serve in such a role in order to have a definitive role in the selection process, but Hugo would apparently rather cede to the majority and maintain equanimity, though he slightly subverts that process by saying he has nothing to say whatsoever about the winning film. Which, from Hugo, speaks volumes. ;) I don't think anyone would hold it against Hugo to just be honest and direct whether he loved a given film or hated it... I never hold back on strong opinions about films, or the arts, but I'm able to have enthusiastic debates with friends and family who hold equally strong but different opinions without anyone taking things personally. Hugo has always been more than willing to praise films he enjoyed (especially Australian films) but more circumspect in being critical. This is very endearing, but I would love it if someone asked him to dish on movies he hated for once. Other than Transformers, I mean. ;)

That said... I'd love to see video of the Julie Rigg interview, because clearly he gives her quite an expression when asked "what Nicholas Winding Refn was saying" with Only God Forgives, as she says, "Clearly you don't want to go any further", and they both laugh. Later he says, "You've got to learn to have your opinions chiseled a bit" on a festival jury, then later says "I think you shouldn't talk to me too much about this film" when asked what about the winner he "hadn't seen before". Reminds me a bit of the late, great Roger Ebert's refusal to give The Human Centipede a rating. Maybe that is a bit colder (or more "chiseling"?) than just ranting about how bad it was, which some directors will cynically blurb to get attention.

Healing

A few new updates on Healing, which is in the final stages of post-production and might be ready in time for the fall festivals. The film's Facebook page shared the news that editing has now been completed, and additional audio recording (of natural sounds, to highlight to therapy-raptor theme) was underway in late June. They also shared this photo of the cast and crew at Healesville Sanctuary on the final day of filming. Hugo is in the front row, to the right: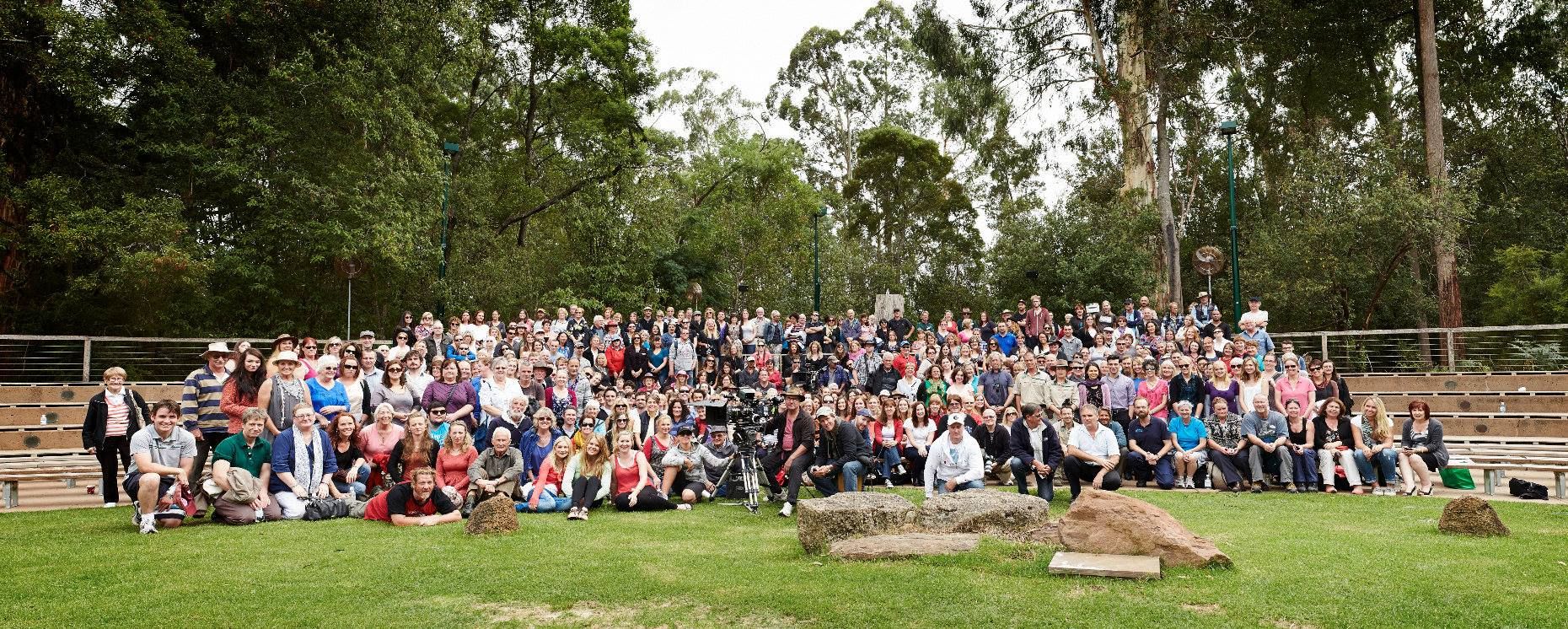 The Hobbit: Desolation of Smaug

I wish I had more specific info about Hugo's role in this film, but currently there are no new details about whether Elrond will appear in both remaining Hobbit films or what his scenes will involve. PJ has confirmed that the Battle of Five Armies was among the sequences being shot during this spring/summer's "pick-ups" for the last film, There and Back Again. Hugo has not yet been involved in the current filming, but it will probably continue for at least a few more weeks. Hugo did confirm he shot scenes for "both films" when there were only two, and that, as of last fall (when he last spoke of The Hobbit), he hadn't shot any Battle of Five Armies footage and hadn't been given details as to whether or when he'd be needed for additional work on the trilogy.

Hugo also doesn't appear in Peter Jackson's latest Production Diary Video (#11 for those counting), but it's so entertaining you'll probably want to watch it (or watch it again) anyhow. I suspect that the second film focuses more on the Mirkwood Elves, including Legolas, Thranduil and the controversially non-canonical Tauriel. (For the record, I have no issues with Tauriel being added... even when I was a kid first reading The Hobbit, I thought it could use more female characters. Because it had absolutely none. PJ has promised that Tauriel isn't just a Mary Sue construct (ie a love interest for Legolas who has no real role in the story or other justification for being there)... he'd better be telling the truth. But nothing I've seen so far gives me reason for concern.) I still hope Elrond at least makes an appearance in the two remaining films, but we'll have to wait awhile longer to know for certain. Til then you can look at scans from the Empire DOS issue at Comic Book Movie. And PJ also promises a second new Production Diary video covering the latter half of this summer's pick-ups and reshoots before summer ends.



And there's confirmation (via Empire and ComingSoon.net) of additional Rivendell footage in publicity for the forthcoming Expanded Edition of An Unexpected Journey, which will be out this fall in advance of the second film. (To be specific, we're promised more Dwarf-on-Elf hostility in Rivendell footage; Elrond isn't specifically mentioned, but frankly in spite of AUJ's widely criticized theatrical length, the Rivendell sequences felt too abrupt, particularly for scenes meant to convey how Bilbo's lifelong love of Rivendell began in the first place. So I'm glad to learn more footage was shot.)

In Other Hugo Weaving News...

Hugo Weaving was spotted at Art of Music Live, a fundraising concert, on 26 June. He has supported the charity for several years, and donated $25K in a charity auction for the group in 2010.

The Mule has been filming in Bangkok, Thailand over the past couple of weeks, though no specifics about which cast members re on hand are available. The film's Twitter feed continues to provide humorous but real-information-free posts and videos. I suspect Hugo Weaving plays a supporting rather than lead character at this point.

The Gift, a short film starring Hugo's son Harry Greenwood, has been picked up by several prominent international festivals, including MIFF, The Palm Springs Short Film Festival and "two others in LA", according to The Daily Telegraph.